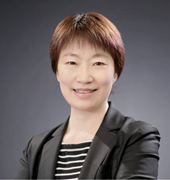 Prof. Yu-Qiu Zhang
Vice Director of IOBS
Research Directions
(1) Mechanisms of hyperalgesia and allodynia induced by chronic pain; (2) Molecular, cellular and circuit mechanisms of pain-related emotion.
Contact Information
Address: Institutes of Brain Science, Fudan University, 138 Yixueyuan Road, Shanghai 200032, China
Tel:021-54237635 Fax:021-54237647 Email: yuqiuzhang@fudan.edu.cn
Ph.D. in Physiology from Xi'an Jiaotong University Medical College (1998) followed by postdoctoral studies in State Key Laboratory of Medical Neurobiology, Shanghai Medical College, Fudan University (1998-2000). 2000.6-2001.11, Associate professor at the Institute of Neurobiology, Fudan University. 2001.12-present, Professor at the Institute of Neurobiology, Institutes of Brain Science, Fudan University. 2003-2004, Visiting professor, Department of Cell Biology, Neurobiology and Anatomy, University of Cincinnati College of Medicine. 2005, gained The National Science Fund for Distinguished Young Scholars. Dr. Zhang has authored more than 80 papers in prominent international journals. She is currently a vice-director of Institutes of Brain Science, Fudan University. She also serves as Vice President of the Chinese Neuroscience Society and Shanghai Society for Neuroscience, and on the editorial boards of the Neuroscience Bulletin, Acta Physiol Sinica, Open Pain Journal and Chinese Journal of Pain Medicine.

Enrollment Major
Neurobiology

Research Direction
This laboratory is interested in mechanisms underlying nociceptive transmission and modulation
Selected Publications
1. Sheng HY, Lv SS, Cai YQ, Shi W, Lin W, Liu TT, Lv N, Cao H, Zhang L, Zhang YQ*(2020). Activation of ventrolateral orbital cortex improves mouse neuropathic pain-induced anxiodepression. JCI Insight. 5(19):133625.
2. Liu BL, Cao QL, Zhao X, Liu HZ, Zhang YQ*(2020). Inhibition of TRPV1 by SHP-1 in nociceptive primary sensory neurons is critical in PD-L1 analgesia. JCI Insight. 5(20):137386.
3. Zang KK, Xiao X, Chen LQ, Yang Y, Cao QL, Tang YL, Lv SS, Cao H, Zhang L, Zhang YQ*(2020). Distinct Function of Estrogen Receptors in the Rodent Anterior Cingulate Cortex in Pain-related Aversion. Anesthesiology. 133(1):165-184.
4. Luo H, Liu HZ, Zhang WW, Matsuda M, Lv N, Chen G, Xu ZZ, Zhang YQ*(2019). Interleukin-17 Regulates Neuron-Glial Communications, Synaptic Transmission, and Neuropathic Pain after Chemotherapy.Cell Rep. 29(8):2384-2397.e5.
5. Chen G, Kim YH, Li H, Luo H, Liu DL, Zhang ZJ, Lay M, Chang W, Zhang YQ*, Ji RR*(2017). PD-L1 inhibits acute and chronic pain by suppressing nociceptive neuron activity via PD-1. Nat Neurosci. 20(7):917-926.