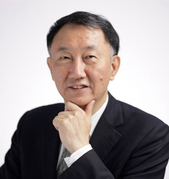 Prof. Xing-Huai Sun
Principal Investigator
Research Directions
Glaucoma and neuroprotection, Visual plasticity and reconstruction
Contact Information
Address: Eye Ear Nose and Throat Hospital of Fudan University, 83 Fen Yang Road, Shanghai 200433, China
Tel:86-021-64377134-554 Email:xhsun@shmu.edu.cn

Dr. SUN graduated from Shanghai First Medical College (the predecessor of Shanghai Medical University) in 1984. He received his PhD from Shanghai Medical University (now merged into Fudan University) in 1990. He serves in Eye & ENT hospital since 1984 and focuses on clinical, teaching and research work of Ophthalmology.
Current Appointments:
Chairman and professor, Department of Ophthalmology & Vision Science of Shanghai Medical College, Fudan University, China
PI of State Key Laboratory of Medical Neurobiology, Institutes of Brain Science of Fudan University, China
Director, Key Laboratory of Myopia, China Ministry of Health (Fudan University)
Professional Societies:
Governor, the World Glaucoma Association Board (Jan., 2020)
Fellow, Academy of Asia-Pacific Professors of Ophthalmology (Feb., 2018)
President, Ophthalmology & Vision Science Committee of Chinese Research Hospital Association (Mar.2017-)
President-elect, Chinese Ophthalmology Society (Oct.2016-)
Awards:
Second prize of National Science and Technology Progress Award(2016, China)
Golden Apple Award presented by the Chinese-American Ophthalmological Society for Distinguished in Ophthalmic Education(2016)
The Elite of Shanghai Science and Technology (2015)
Outstanding contributions of young and middle-aged experts of NHFPC (2015)
Award for excellent ophthalmologist in China (2015)
Outstanding Award of Chinese Ophthalmology Society (2014)
Asia-Pacific Academy of Ophthalmology Distinguished Service Award (2009)
Enrollment Major
Neurobiology, Ophthalmology

Research Direction
Glaucoma and neuroprotection, Visual plasticity and reconstruction
Research Work
The research group is composed of clinical and basic researchers, dedicated to the pathogenesis and neuroprotection of glaucomatous optic neuropathy and related visual impairment, and research on the plasticity and reconstruction of low vision caused by retinal optic nerve disease. Closely integrate neuroscience with clinical issues in ophthalmology, around the three levels of the retina, lateral geniculate body and visual cortex, systematically study different types of the occurrence and development of damage, as well as possible mechanisms and measures for protection and remodeling of visual function about visual nervous systems from the perspectives of molecular biology, morphology and function, epigenetics, stem cell technology, etc.
Grants: holds eight scientific projects as PI from China national or ministerial research funding in the last 5 years, including National Key Research and Development Program of China, key project of the National Natural Science Foundation of China.
Peer-reviewed publications: more than 2oo papers published in professional journals including Ophthalmology, Progress in Retinal and Eye Research, ACS Applied Materials & Interfaces, Journal of Neuroscience, Current Biology, and Nature Genetics.
Selected Publications
1. Tang Y, Fang W, Xiao Z, Song M, Zhuang D, Han B, Wu J, Sun X*(2020). Nicotinamide ameliorates energy deficiency and improves retinal function in Cav-1-/- mice. J Neurochem. doi: 10.1111/jnc.15266.
2. Xu LJ, Gao F, Cheng S, Zhou ZX, Li F, Miao Y, Niu WR, Yuan F, Sun XH*, Wang Z*(2020). Activated ephrinA3/EphA4 forward signaling induces retinal ganglion cell apoptosis in experimental glaucoma. Neuropharmacology. 178:108228
3. Wang JJ, Liu C, Shan K, Liu BH, Li XM, Zhang SJ, Zhou RM, Dong R, Yan B*, Sun XH*(2018). Circular RNA-ZNF609 regulates retinal neurodegeneration by acting as miR-615 sponge. Theranostics. 8(12):3408-3415.
4. Sun X*, Dai Y, Chen Y, Yu DY, Cringle SJ, Chen J, Kong X, Wang X, Jiang C(2017). Primary angle closure glaucoma: What we know and what we don't know. Prog Retin Eye Res. 57:26-45.
5. Sun J, Lei Y, Dai Z, Liu X, Huang T, Wu J, Xu ZP*, Sun XH*(2017). Sustained Release of Brimonidine from a New Composite Drug Delivery System for Treatment of Glaucoma. ACS Appl Mater Interfaces. 9(9):7990-7999