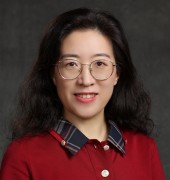 Research Direction
Retina and Retinal Disease
Contact Information
Address: Room B5028, Scientific Research Building 2, Institutes of Brain Science, Fudan University, 131 Dong An Rd, Shanghai China 200032
Tel: 86-21-5423-7881 (office);Email: yymiao@fudan.edu.cn
Miao Yanying, Associate Professor. She received her Ph.D. degree from Peking University in 2007. In the same year, she joined the Institute of neurobiology in Fudan University as a lecturer. In 2009, she joined the Institutes of Brain Science in Fudan University as a lecturer (2009-2012) and associate professor (2012-present). She visited the University of Chicago as a scholar (2012-2013). She is a member of Chinese Society of Neuroscience and Chinese Association for Physiological Sciences, and a director of Shanghai Physiological Society.
Glaucoma is an irreversible blinding neurodegenerative disease, which is characterized with optic neuropathy and visual field loss. However, the pathogenesis of glaucoma is very complex and has not been clarified by now. In addition, the clinical treatment of glaucoma is very limited. Miao' research focuses on the mechanism of retinal ganglion cell injury in glaucoma, including the mechanism of autophagy and apoptosis of retinal ganglion cells, the regulation of glial microenvironment in the process of ganglion cell injury and exploration of possible endogenous small molecules with neuroprotective effect.
Enrollment Major

Neurobiology
Selected Publications
1. Zhang ML, Zhao GL, Hou Y, Zhong SM, Xu LJ, Li F, Niu WR, Yuan F, Yang XL, Wang Z*, Miao Y*(2020). Rac1 conditional deletion attenuates retinal ganglion cell apoptosis by accelerating autophagic flux in a mouse model of chronic ocular hypertension. Cell Death Dis. 11(9): 734
2. Liu ST, Zhong SM, Li XY, Gao F, Li F, Zhang ML, Zhu K, Sun XH, Wang X, Miao YY*, Yang XL, Wang ZF*(2018). EphrinB/EphB forward signaling in Muller cells causes apoptosis of retinal ganglion cells by increasing tumor necrosis factor alpha production in rat experimental glaucomatous model. Acta Neuropathol Com. 6: 111
3. Wu HJ, Li XY, Qian WJ, Li Q, Wang SY, Ji M, Ma YY, Gao F, Sun XH, Wang X, Miao YY*, Yang XL, Wang ZF*(2018). Dopamine D1 receptor-mediated upregulation of BKCa currents modifies Müller cell gliosis in a rat chronic ocular hypertension model. Glia. 66(7): 1507-1519
4. Zhu K, Zhang ML, Liu ST, Li XY, Zhong SM, Li F, Xu GZ*, Wang ZF, Miao YY*(2017). Ghrelin attenuates retinal neuronal autophagy and apoptosis in an experimental rat glaucoma model. Invest Ophth Vis Sci, 58(14):6113-6122
5. Ji M#, Miao YY#, Dong LD, Chen J, Mo XF, Jiang SX, Sun XH*, Yang XL, Wang ZF* (2012). Group I mGluR-mediated inhibition of Kir channels contributes to retinal Müller cell gliosis in a rat chronic ocular hypertension model. J Neurosci. 32(37): 12744-12755