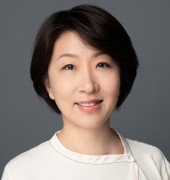 Research Direction
Molecular and cellular mechanisms of neuropathic pain and acupuncture analgesia
Contact Information
Address: Institutes of Brain Science, Fudan University, 138 Yi Xue Yuan Rd, Shanghai China 200032
Email: ninglu@fudan.edu.cn
Ning Lü, associate researcher, Institute of brain sciences, Fudan University. She was graduated from Heilongjiang University of traditional Chinese medicine in 1993 and received the medical doctor's degree from Harbin Medical University in 2003. Then she obtained a postdoctoral training in the Institute of Neurobiology of Fudan University. She had been engaged in teaching and scientific research since 2005. She undertook several funds, including the National Natural Science Foundation of China, "Molecular mechanism of ryanodine-sensitive intracellular calcium stores in sensitization of spinal dorsal cord" (No. 30600178, 2007-2009), "IL-23 / IL-17 axis mediated spinal astrocyte-neuron "cross-talking":a study on mechanism underlying the central sensitization of neuropathic pain" (81571064, 2016-2019), and participated in the National Program on Key Basic Research Project, "Mechanism of acupuncture analgesia and protection based on clinical practices (2013cb531905, 2013-2017).
Enrollment Major

Neurobiology
Selected Publications
1. Dai WJ, Sun JL, Li C, Mao W, Huang YK, Zhao ZQ, Zhang YQ*, Lu N*(2019). Involvement of interleukin-10 in analgesia of electroacupuncture on incision pain. Evid-Based Compl Alt. 8413576
2. Bian C, Zhao ZQ, Zhang YQ*, Lü N*(2015). Involvement of CX3CL1/CX3CR1 signaling in spinal long term potentiation. Plos One. 10(3): e0118842
3. Zhang Y, Lu N*, Zhao ZQ, Zhang YQ* (2012). Involvement of estrogen in rapid pain modulation in the rat spinal cord. Neurochem Res. 37(12): 2697-2705
4. Lu N, Cheng LZ, Zhang YQ, Lu BC, Li YQ, Zhao ZQ* (2011). Involvement of ryanodine receptors in tetanic sciatic stimulation-induced long-term potentiation of spinal dorsal horn and persistent pain in rats. J Neurosci Res. 90: 1096-1104
5. Lu N, Han M, Yang ZL, Wang YQ, Wu GC, Zhang YQ*(2010). Nociceptin/Orphanin FQ in PAG modulates the release of amino acids, serotonin and norepinephrine in the rostral ventromedial medulla and spinal cord in rats. Pain. 148(3):414-425